Even though I was not selected as a beta tester for the skeletons in moviestorm I am using the Male and Female skeletons that Reacher provided, although I admit I have mostly used the male one and not really created anything and imported into moviestorm for females yet.
The skeleton used for Misfit and Milkshape is visually much different to that which I have seen a screenshot for in Max, where as in Max they are easily visible and possibly easy to select each one, the ones for the two programs I am talking about here look more complex even though they are essentially the same. This is because the skeleton in Milkshape and Misfit is not displayed as a solid entity, it is wireframe type unlike in Max.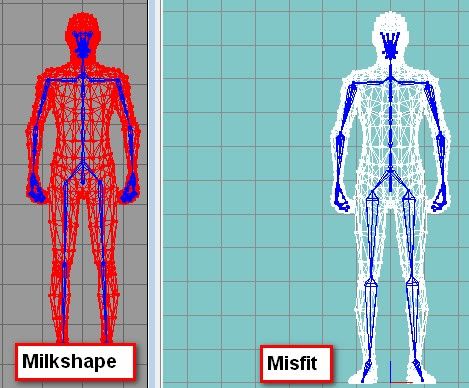 I found an issue in Milkshape where when switching to animation mode the mesh appears to Sag all over the body, this is particularly visible on the face such as the eyes and mouth etc, however this does not seem to affect any animations exported from Milkshape into Moviestorm, this does however make it difficult to accurately animate the face within Milkshape.
However this issue does not arise in Misfit which holds the mesh together nicely.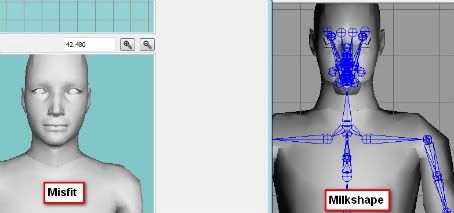 For the above reason I have found Misfit is best for animating in, just so I can keep tabs on how the mesh is working as of course it would be frustrating if loads of work was done to make an animation and find that deforming happened that could show in Moviestorm.
Post Edited with further details.
Ok before I go on to discussing the animation process in these programs and issues faced I want to discuss methods of selecting bones to be animated.
As said earlier the bones in Misfit and Milkshape look different to how they are in Max, they are not solid shapes, they are like wire frames, this can make life a little more difficult when selecting bones using the selection tool. You see when highlighting the bones in say the fingers you need to zoom right into the viewport, regardless of what angle you use to select the bones it is quite awkward, what I mean is because the bones are hollow frames when you use the select tool and drag to highlight you often end up highlighting other bones you did not want. So selecting the complex areas is really quite hit and miss and sometimes frustrating.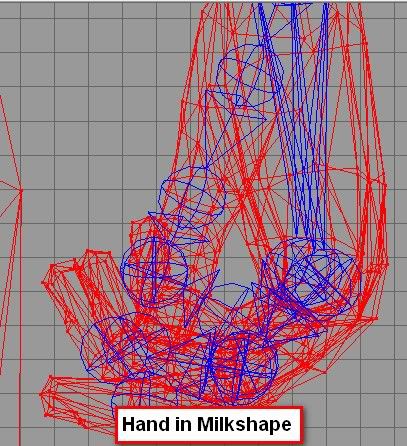 Above: Shows just how complex the hand looks, this makes selecting bones in the hand (also the head) more difficult.
Both programs offer an alternative way of selecting bones individually, first I will discuss Milkshapes way (which is actually similar to Misfits).
In Milkshape you can access a drop down menu of the bones, this is in the "Joints" tab located in the top right corner of the interface, this can be very handy to pick out those really small bones.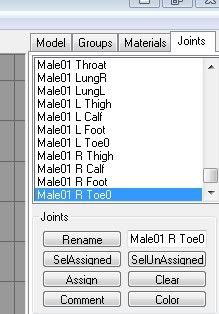 The thing about this though is that you can only select one bone at a time, if you try to select another it cancles out your first selection, so you need to be aware of this.
Another issue is that say you are rotating a joint ie Left Clevicle (shoulder joint), you select it using the above method then rotate you will find when you get so far the hand will deform and the bones seem to leave the mesh, I learnt thanks to Reacher that this is because the Rotate joint are not selected and not moving in synch with the limb this leads to the below undesired effect: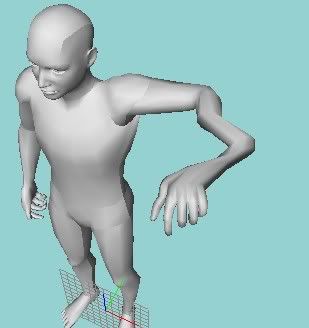 The way to avoid this is by using the selection tool and highlighting all the joints on the arm to ensure it rotates correctly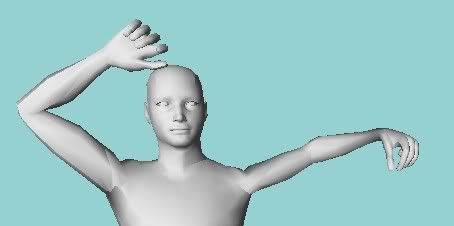 Above: The right arm raised correctly through selection tool, the left arm deformed after using joints selection.
So that in mind the "Joints" selection is fine for small rotations, and also for use on bones that do not depend on others but not good for rotating the whole arms, legs but it does work fine for the whole head and each spine bone.
Misfit like Milkshape suffers the same issue when using the select tool for selecting bones, however I do note that the bones look neater and more accessible: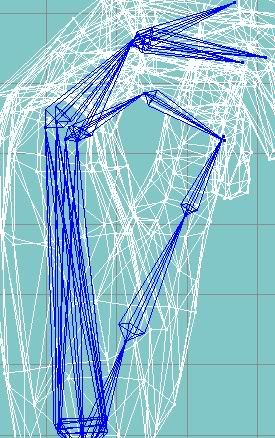 This makes a quite a bit easier to select the bones in the hands and other more complex parts of the body such as the head:
Misfit does not show the bone ends as big balls, they are instead little points, this means much less clutter and actually makes it easier to select them without accidentally selecting other bones you did not want to select.
Like in Milkshape there is a way to select individual bones from a selection list, you do this by clicking "Influences" in the top menu then selecting "Edit Joints", here you will access a drop menu with all the bones, selecting one and clicking ok highlights that bones where you can then rotate it. However using this method can result in the same undesirable warping you get in Milkshape when using the "Joint" selection menu. Also as in Milkshape this method allows you to only select one bone at a time.
For anyone reading this that is new to this you will notice I say "Rotate" a lot, this is because it is better to Rotate the bones than Move them, if you use the Move tool you risk breaking them, and since your own joints actually rotate the same rules should apply to the puppets bone joints.
Next I will discuss the animation process in both programs and highlight key issues affecting work flow.