Bringing Hip Hop to moviestorm

Thanks for all the people in this forum and Private messaged me who liked the animations.
This addon is no longer offered for free.
An October 2013 non-free update release is planned when moviestorm 1.6 is out of beta.


Want your copy of the free edition of 3DTree_HipHop01 addon ?
Message me or Reply in this forum post with "send me..." to receive a message to your inbox with the download URL.


ADDON is 21.1 Meg in size... ...



A whole set of Hip hop animation routines/moves...
Sure there are rough parts with a few arm/hand pops(odd angles); along with no transitions...
Another < or > 50hrs would clear that up... it's "as is" for the free version.
... Working on more locking, popping... hiphop in dev., in another dance addon coming soon too...
Got Hip Hop covered... in the near future; that's the plan... ;-)

Addon 3DTree_HipHop01 contents showing in vid below
Enjoy the video below.
Each dance routine is around 150-300 frames. Teletype messages show each new routine in the addon.
4 to 5 minutes of Hip Hop moves...
Below the 21 Gestures available: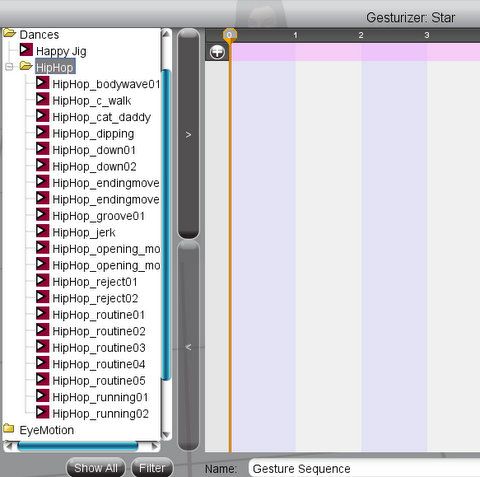 -
Happy HipHop... ;-)